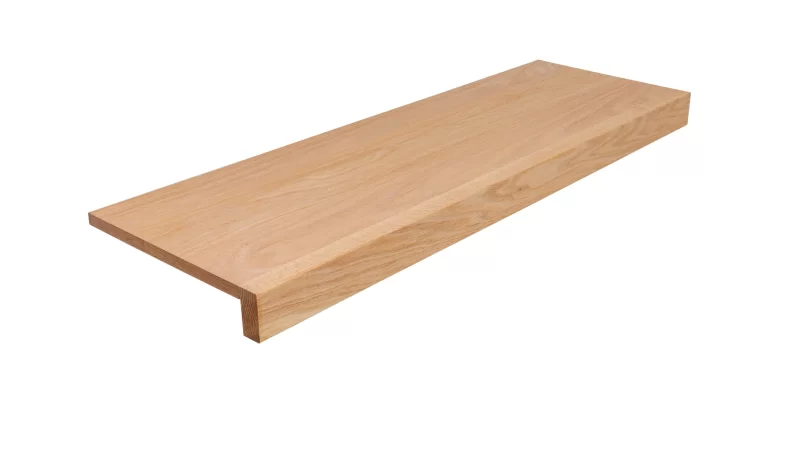 Are you looking to give your stairs a fresh, modern look? Our modern solid hardwood retrofit stair treads are the perfect solution for your staircase renovation. Crafted with precision and elegance, these treads combine style and durability to transform your stairs into a stunning focal point in your home.
Elevate Your Stairs with a Stylish and Durable Solution
The modern design of our solid hardwood retrofit stair treads features a square nose with radius edges, creating a sleek and contemporary appearance. Unlike traditional treads, our one-piece solid nose eliminates any joints or lines in the middle of the face, ensuring a seamless and polished finish.
Easy Installation for Cost-Effective Staircase Renovation
Refresh your stairs without the need for extensive construction. Our retrofit treads can be easily installed over existing treads, saving you time and money. Say goodbye to the hassle of replacing the entire staircase. With our solid hardwood retrofit treads, you can achieve a brand new look without the extensive renovation process.
Customizable to Match Any Decor Style
We understand that each home has its unique style and ambiance. That's why our unfinished treads can be stained to match your existing flooring or stairs. Whether you prefer a classic, rustic, or contemporary aesthetic, these treads can be tailored to complement your decor seamlessly. The dimensions of .625 in. thickness and 11.5 in. width, with a 2.25 in. molded nose, provide a perfect fit for most staircases.
Long-Lasting Quality and Resistance to Wear
Crafted in the US from sustainably harvested Appalachian hardwoods, our solid hardwood retrofit stair treads boast exceptional quality and durability. The edge glued nose ensures stability and strength, providing a solid platform with each step. These treads are designed to withstand daily wear and tear, and they are resistant to scratches and stains. With their robust construction, they will maintain their pristine appearance for years to come.
Unique and Natural Characteristics of Solid Hardwood Treads
It's essential to note that solid hardwood is a natural product, offering distinct characteristics and variations. No two pieces are the same, making your staircase truly one-of-a-kind. The images provided are representative of the treads and may not be an exact match. We take pride in the natural beauty of our unfinished products, and we recommend some preparation, such as sanding and filling minor imperfections, before applying the final finish.
Conclusion
Upgrade your stairs with our modern solid hardwood retrofit stair treads and experience the perfect blend of style, functionality, and durability. With easy installation, customizable options, and long-lasting quality, these treads will enhance the aesthetic appeal of your staircase while providing a reliable and safe walking surface. Embrace the natural beauty of solid hardwood and embark on a staircase transformation that will leave a lasting impression.